Mark McKinney
Singer/Songwriter 
Austin, Texas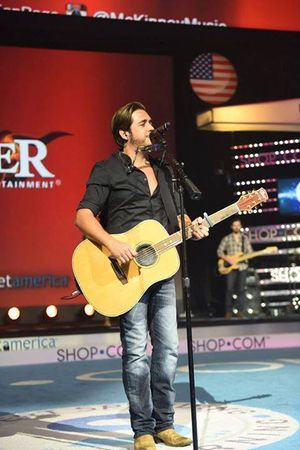 Mark McKinney likes to keep the people guessing. Considered by Texas music fans to be a powerhouse of a writer and entertainer, McKinney's wide range of musical influences are clearly evident in his highly original songs- ranging from emotion and lyric rich Americana songs; to rowdy country anthems; to delicately crafted love songs. A west Texas native, Mark moved to Austin, Texas in the 90s and has since been quite comfortable living in the live music capitol of the world. In the summer of 2006, Mark released his first solo album, Get It On and hit the road touring full time. 

Mark snagged his first Number One spot on the Texas Music Chart and TRRR in early 2013 with "She Ain't Leavin'," the debut single off of his latest album, Standing My Ground. Later that year, the second single from the album, "Stolen Cash," made its way up to Number One on the charts. The song was inspired by much time spent in Port Aransas, Texas, a town McKinney considers to be his second home. It was written while staying at Seashell Village Resort, McKinney's favorite of all Port Aransas hotels, and infamous getaway and writing retreat for many Texas songwriters. Seashell Village is also home to Third Coast Theater, a place many deem to be the best place for Port Aransas live music.

 In 2014 the single 'Lonely Bones' also shot to the Number One spot on both Texas Charts. This song has been a crowd favorite at shows ever since. 

In March of 2016, "Sunshine," Mark's first single off his upcoming fifth studio album, joined his spree of Number One songs and reached the top of the Texas Music Charts. 

Touring constantly since 2006, Mark has delivered over 100 memorable performances every single year to his growing Texas and national fan base. To his credit, Mark has penned co-writes with Grammy-nominated songwriters John Mabe and James Slater, as well as renowned Texas songwriters Kevin Fowler, Larry Joe Taylor, Bleu Edmondson, Kyle Park and more. 

McKinney also gained national recognition by having several songs licensed and used by ESPN and NASCAR. He also had several music videos appear on GAC and CMT. Over the course of his career, McKinney has shared the stage with music legends like Willie Nelson, Lyle Lovett, Charlie Daniels, Ted Nugent, Robert Earl Keen, Miranda Lambert, Luke Bryan, Billy Currington, Gary Allan, Ryan Bingham, Randy Rogers, Eli Young Band, Kevin Fowler, Pat Green and more. In the summer of 2008 during a tour in France, McKinney won the French Country Music Award for "Live Performance of the Year" for his concert at the Equiblues Festival in St. Agreve France. He is in great company- previous winners of this award include Brad Paisley, Jamey Johnson, and Dierks Bentley. 

With four studio albums, Fifteen Top 10 hits on the Texas Country Charts, an ever-growing fan base, and favorite entertainer of the Texas music scene, Mark McKinney is a force to be reckoned with, and has no plans of slowing down any time soon. Mark's brand new album, World In Between released in January of 2017, has already received much critical acclaim. 

CountryChart.com calls World In Between a "passionate, powerhouse project that moves the Texas country music genre forward with thought provoking lyrics and refreshing musicality that more tightly infuses Red Dirt with the best elements of rock." The new album is predicted to launch McKinney into entirely new genres and audiences. With five albums under his belt and a continuously growing fanbase, we can't wait to see where he goes from here. 
Thanks to our additional sponsor for all the support, Tree Trimming Round Rock.